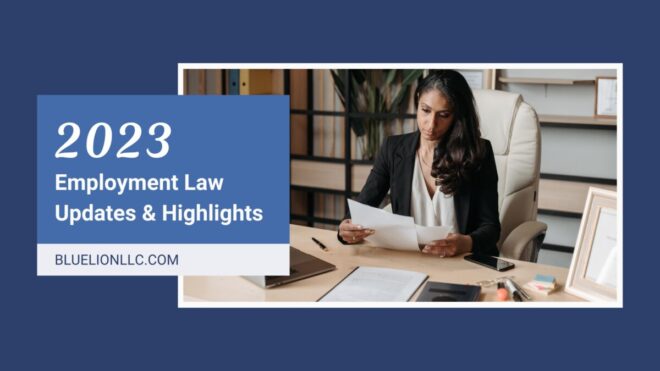 With a new year comes new employment laws! Employers should be aware of changes to federal and state employment laws for 2023. That includes some regulations that went into effect in late 2022. 
While there aren't many new federal employment laws at this time, many updates and expansions are occurring at the state level. Some went into effect, and others will come later this year. 
Read on for the highlights, including laws related to minimum wage increases, pay equity and transparency, expanded paid family and medical leave, sexual harassment and assault, and pregnant and breastfeeding employees.
Minimum Wage Increases
One of the hottest topics regarding employment laws in recent years is the minimum wage. 
The federal minimum wage will remain at $7.25 an hour—which it has been at for 13 years. But many states have increased their minimum wages to significantly higher rates than the federal rate as of January 1 for non-tipped wages, including:
Arizona: $13.85

California: $15.50

Colorado: $13.65

Delaware: $11.75

Illinois: $13

Maine: $13.80

Maryland: $13.25

Massachusetts: $15

New Jersey: $14.13

Rhode Island: $13

Vermont: $13.18

Virginia: $12

Washington: $15.74
Other states will enact their increased minimum wages later this year, including:
Connecticut: $15 starting June 1

Florida: $12 starting September 30

Michigan: TBD

Nevada: $11.25/$10.25 starting July 1 (with health benefits/no health benefits)

Oregon: $13.50 starting July 1

Washington D.C.: $17 starting July 1
Stay tuned for bumps coming down the line—and ensure you're compliant with 2022 increases!
Employers in certain states should beware of nuances between jurisdictions. For example, while the minimum wage in New York City is $15, Upstate New York is $14.20. Oregon divides its counties into three regions and assigns a minimum wage accordingly: Portland Metro ($14.75), Standard ($13.50), and Non-urban ($12.50). California's minimum wage also varies by geographic location. 
Other states and metropolitan areas have their own unique minimum wage systems. Some are implementing new punitive actions for wage-related claims, so work with your HR team and legal counsel to ensure compliance.
Pay Equity & Transparency Laws
Similar to a growing HR trend of salary history bans, several states are also passing new laws to improve pay equity and transparency and better protect candidates and employees.
California
One of California's latest laws requires employers to:
Provide a pay scale if job applicants or current employees request it

Include a pay scale with any job posting (for those with 14 or more employees)

Keep records of job titles and corresponding wage rate history for all employees
Rhode Island
Rhode Island has made requesting or relying on an applicant's wage history illegal. The new law also requires employers to provide a wage range for each job.
Washington 
Washington employers must share hourly or salary compensation and a general description of benefits in their job postings.
Illinois
Illinois' new Equal Pay Act requires employers with 100 or more employees to apply for an Equal Pay Registration Certificate. To do so, they must submit the following to the Illinois Department of Labor (IDOL):
Their most recent

EEO-1 Report

for each county in which the business has a facility or employees

List of all employees from the past calendar year separated by gender and the race and ethnicity categories as reported in the employer's EEO-1, including the county where the employee works, the employee's start date, and compensation data rounded to the nearest $100

Equal Pay Act compliance statement signed by a corporate officer, legal counsel, or authorized agent of the business containing specific statements as outlined by the IDOL

$150 filing fee
The IDOL started notifying employers in early 2022 to file within 120 days and will continue sending notices through March 23, 2024. Businesses must also recertify with the IDOL every two years.
Leave Laws
In another prominent HR trend, more states are expanding their paid family and medical leave (PFML) programs between now and 2024. Some include more robust benefits for new parents, those caring for siblings, and even those caring for close friends. Other states are reducing the family leave contribution rate.
Colorado
Employer and employee contributions toward Colorado's new Family and Medical Leave Insurance (FAMLI) began on January 1. This year's deductions are to start building up the fund. Workers can begin using the benefit as of January 2024.
FAMLI offers 12 weeks of PFML to qualified employees, with an additional four weeks for those who experience complications during pregnancy or childbirth.
New York
Employees can now use Paid Family Leave to tend to siblings with serious health conditions. This covers biological, adopted, and half-siblings—they do not need to be New York residents.
California
A new California employment law allows workers to take leave for a "designated person," which includes any person related by blood or whose relationship with the employee is like family.
PFML Contribution Reductions
New Jersey has decreased family leave insurance contributions from 0.14% to 0.06% for employers and workers.
Additionally, Massachusetts has reduced PFML contribution rates for employers with 25 or more covered employees from 0.68% to 0.63% of wages.
New Speak Out Act
President Biden enacted the Speak Out Act on December 7, 2022. The new employment law makes pre-dispute non-disclosure and non-disparagement agreements related to sexual harassment or sexual assault unenforceable. 
Simply put, employers cannot prevent employees from discussing sexual harassment or sexual assault allegations before a concern or dispute occurs.
So, what is considered a "dispute"? It's a bit foggy, but a sexual harassment or sexual assault complaint appears sufficient to be considered a dispute. Employers can use enforceable non-disclosure and non-disparagement clauses in settlement agreements resolving allegations of sexual harassment and assault.
What do you need to do? Since general pre-dispute non-disclosure and/or non-disparagement agreements are not enforceable in sexual harassment or sexual assault situations, you should review and update applicable standard documents. These include employment agreements, confidentiality agreements, company policies, and employee handbooks. 
Need help updating or creating HR documents and policies? Learn how we can help.
Federal Protections for Pregnant & Breastfeeding Workers
President Biden then signed the Pregnant Workers Fairness Act (PWFA) on December 31, 2022, which will go into effect this June. Under the act, employers with 15 or more employees must provide reasonable accommodations to candidates and employees with conditions related to pregnancy or childbirth. It also outlaws discrimination due to pregnancy-related accommodation.
More than half the states already have a similar labor law to the PWFA. Those in states without should pay attention to upcoming guidance over the next two years, including examples of reasonable accommodations. The act contains the same protections under the Americans with Disabilities Act (ADA) but for temporary scenarios. It doesn't mandate altering the essential job duties.
On a related note, Biden also passed the PUMP Act, or the Providing Urgent Maternal Protections for Nursing Mothers Act. This federal employment law expands protections for breastfeeding parents under the Affordable Care Act of 2010 and employer obligations under the Fair Labor Standards Act. These laws already require employers to provide reasonable time and a private area for pumping (that is NOT the bathroom).
New protections under the PUMP Act include:
Coverage for employees who were not previously covered, specifically salaried employees

A stipulation that time spent pumping breast milk be considered hours worked if the employee is also working

Extending accommodations from one year to two years
As for employee responsibility, a worker must notify and allow the employer to correct any non-compliance issues before making a complaint against them.
Looking Ahead: Evolving Employment Laws
As you evaluate employee pay, accommodations, handbooks, policies, new hire paperwork, and other documentation for the year ahead, it's a great time to assess new laws—and those just around the corner. Stay tuned to our weekly blog posts for the latest updates and HR trends, then consult your legal or HR team for guidance.
Are you looking for regular hands-on HR support? Or do you need assistance with a specific project, like a handbook or policy development? Contact BlueLion today at 603-818-4131 or info@bluelionllc.com to learn how our diverse team of HR specialists can help you remain compliant—all while giving you more time to work on and grow your business!
The information on this website, including its newsletters, is not, nor is it intended to be legal advice. You should contact an attorney or HR specialist for advice on your individual situation.