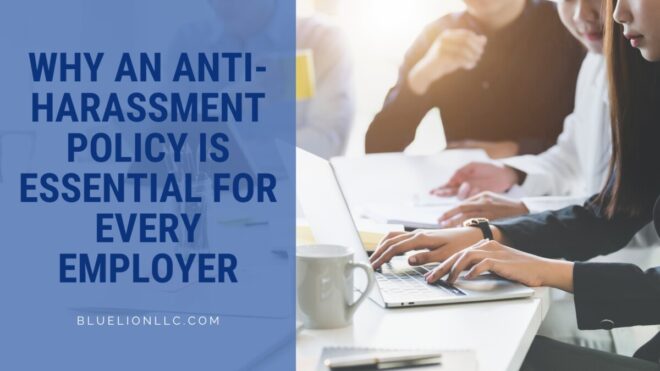 There's a lot of talk about workplace harassment right now, from bullying to sexual harassment. And rightfully so: It's a serious problem that can have lasting effects on victims and their careers. 
But what does an anti-harassment policy do for employers? A good one will not only help prevent harassment but also keep the company out of trouble if an employee files a complaint—or worse, sues them for ignoring it. So why don't more employers have one?
Below, we're diving into the crucial ways a comprehensive anti-harassment policy protects your business and what it should include.
Anti-harassment policies are vital for preventing harassment.
An anti-harassment policy is a document that outlines the employer's stance on workplace harassment and discrimination. It also contains information about how to report inappropriate behavior and what will happen if you do.
This type of policy can also be beneficial for employees unsure of their rights when reporting harassment in the workplace. A solid anti-harassment policy ensures that all employees feel safe coming forward with their experiences, regardless of whether or not they've experienced anything firsthand—and it shows that your company cares about creating a safe environment for everyone.
Anti-harassment policies are essential for EVERY employer—for profit or nonprofit, big or small. They have many benefits and can help prevent harassment.
Show your workforce that harassment will not be tolerated.
Additionally, an anti-harassment policy signals to all team members that harassment will not be tolerated. Having a clearly defined policy tells your employees that they can speak up if they see or experience harassment. 
You are also telling your team that you will take action on their concerns and care about their safety and well-being in the workplace.
What should my anti-harassment policy include?
Your HR team should help you develop a detailed anti-harassment policy that covers all your bases. Ensure it includes the following sections and information.
Employees should know who to contact if they experience or witness harassment in the workplace.
Employees should know who to contact if they experience or witness harassment in the workplace.
This includes:
The name and job title of the person to whom employees can report harassment;

Whether that person is also responsible for investigating complaints (if so, what will be done with the information submitted);

How to contact this employee (phone number, email address); and

What happens after an employee makes a complaint (whether it will be investigated immediately or after a set period of time).
Employees must know how to contact this person and how they will respond. Which brings us to the next key point…
Explain how the company will investigate complaints.
Be sure to outline what happens after an employee files a claim (and whether they need to do anything else). For example: "Upon receipt of a complaint under this policy, we will promptly investigate the matter in accordance with our Complaint Investigation Procedure." The employee should also be able to tell whether or not the complaint will be investigated immediately or within a specific timeframe.
You might also add a statement like: "If necessary for investigation purposes only, we may ask that all parties refrain from discussing details about their case with anyone outside our company during its pendency."
Make your policy accessible to all employees.
Your policy must be accessible to all employees wherever they work, including remote workers. To this end, you will want to ensure that your policy is available on the company intranet and employee mobile devices. Additionally, if you have a corporate laptop program in place for employees who need laptops while working remotely—or even just have IT-managed desktops—you'll want to make sure they can access it there.
Better yet, include your anti-harassment policy in your employee handbook, where staff can access all relevant policies, guidelines, and documentation in one place. Whenever you update any specific policies, your HR team should send the latest version of the handbook to everyone in the company.
Define "employee" correctly and avoid exceptions to coverage.
You should also include all workers who work in the scope of your business, whether they are employees or not. This includes independent contractors, temp workers, and interns.
It's important to remember that even if someone is an independent contractor—or claims to be—and isn't technically an employee of the company, that doesn't mean they won't be covered under your anti-harassment policy. 
For example, an outside salesperson might have a contract with your company but still works in your office during business hours and has access to many resources that could cause them harm due to sexual harassment by another employee. They should be treated like any other worker who comes into contact with coworkers on their way into work each morning (unless there is some specific reason why they shouldn't be included).
Use plain language that everyone can understand—avoid legal jargon and acronyms.
In your policy, use plain language that everyone can understand. Avoid legal jargon and acronyms. The goal of the policy is to inform all employees of their rights, not confuse them with definitions.
While your policy should be clear and easy to read, it is still important to include certain pieces of information that may only apply to specific types of employees. For example, the policy should state how federal and state laws apply when dealing with harassment claims and any state-specific employee protections that vary from place to place.
Make it clear there will be no retaliation for filing a complaint.
It's essential your policy clearly defines what counts as retaliation and how you'll protect whistleblowers from the consequences of reporting harassment or discrimination. You can't just say that there will be no retaliation because then you'd have to ensure each employee knows what counts as retaliation and why it's prohibited. 
So instead, try something like: "Retaliation means any adverse action taken against an individual who has filed a complaint in good faith under this policy." It's also good practice to explain why these protections are so crucial—namely, that reporting harassment or discrimination is hard work and takes courage; without them, people may be too afraid to speak up when they see or experience something wrong at work.
Anti-harassment policies and training work hand-in-hand.
Your anti-harassment policy will be most effective when coupled with anti-harassment and discrimination training. A growing number of states require harassment policies and training, but you should have them regardless of your state's laws!
Anti-harassment training is a lesson or class that explains what harassment and discrimination are and how they can be prevented or stopped. This should include:
Role-playing scenarios: Employees should practice responding to inappropriate behavior. 

How to implement it: Ensure that everyone who works at your company knows their responsibilities for preventing harassment or discrimination against others in the office.

Manager-specific training: Managers must know how best to support their team members in these situations.
The specifics of policy and training requirements vary by state, so check your Department of Labor to ensure your documentation and program are compliant.
Protect your employees & create a safe, healthy company culture.
The bottom line is that having an anti-harassment policy is one of the most important steps you can take to prevent workplace harassment. It sends a clear message that harassment will not be tolerated and gives employees a way to report it if it does happen. Not only that, but having an effective policy in place also protects your business from liability when someone files a claim against them—which is becoming more common these days as more victims speak out against offenders and seek justice through legal channels.
Do you have questions about workplace harassment or need help developing a solid anti-harassment policy? Contact BlueLion today to find out how we can help at 603-818-4131 or info@bluelionllc.com! 
The information on this website, including its newsletters, is not, nor is it intended to be legal advice. You should contact an attorney or HR specialist for advice on your individual situation.