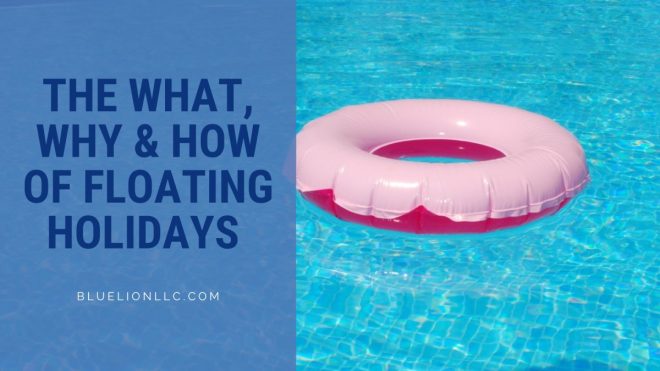 Floating holidays are a great way to give your employees more time off. They're also a way to attract new talent by offering something unique and different from other employers. These flexible days allow you to schedule days off based on employees' schedules and needs, which can be especially helpful for remote workers or those with non-standard hours.
If you're wondering, What does floating holiday mean, exactly? You're not alone! It's still somewhat obscure, but more employers are starting to embrace it as they enhance their employee benefits packages. 
Let's dive into floating holidays, why businesses should consider them, and how to implement them properly.
What is a floating holiday?
Employees can take a floating holiday at any time during the year without dipping into their paid time off (PTO), vacation days, or sick days. Staff can use their floating holidays at their discretion. It's up to the employer to set guidelines.
Similar to floating days or flex days. they're meant to allow employees more flexibility in their schedules rather than giving them extra time off that they can't use until later in the year.
Floating Holidays vs. PTO
So, what is the difference between floating holidays vs. PTO? The primary difference is in how each is accrued:
PTO: Typically determined by how long an employee has worked for your company

Floating holiday: Available immediately to all employees, no matter their tenure
Why should employers offer floating holidays?
Practice Inclusivity
Offering floating holidays shows that your organization is inclusive and embraces diverse cultural and religious beliefs. You may have employees who don't observe the mainstream holidays included in your company calendar but would like time off to celebrate other holidays.
For example, Muslim employees could use them to celebrate Eid Al-Fitr. Others could choose to observe public holidays like Martin Luther King, Jr. Day or Veterans Day (if your business doesn't already offer these as paid days off).
Keep Business Going
Plus, team members who don't celebrate federally recognized holidays may not mind working on them (e.g., Independence Day, Thanksgiving, Christmas). They could help keep your company running these days while the rest of the team can still take the day off.
Focus on Employee Wellness
Floating holidays are flexible, allowing employees to take time off when it suits them best. They can balance work and family life pressures, which is especially important for parents of young children (or those with aging relatives) or people caring for loved ones with health conditions. This can have a positive impact on employee morale and well-being.
Stand Out
People are searching for employers focusing on their work-life balance, meaning unique benefits and flexibility. Many are even willing to take a pay cut in exchange for things like more time off. Floating holidays are a cost-effective, manageable way to offer more days off to your employees while helping your business stand out from the competition.
How to Implement a Floating Holiday Policy
As with any other workplace benefit, being clear about what kind of leave is available and when employees can use it will help make sure everyone's on the same page. Consider the following factors as you develop your floating holiday policy.
Eligible Dates & Restrictions
Floating holidays are meant to be flexible—so let them be just that! Employees should be able to use their floating holiday days however works best for them and their families; if an employee wants to take several consecutive days off or spread them out over several weeks, that's up to them (and their manager).
Depending on your industry, however, you may need to set restrictions. This could mean: 
Excluding them during your busiest days/weeks

Staggering who takes a floating holiday when to ensure you are sufficiently staffed

Designating certain days as floating holidays (e.g., offering Christmas Eve as a floating holiday when it falls on a weekday)
Just avoid blocking off an entire month, as this counteracts the benefit of the floating holiday.
Eligible Employees
While floating holidays should be available to all employees, it's wise to include certain caveats to ensure people don't take advantage of them or cause scheduling issues. These might include:
Restrictions on when employees in certain departments can use them

How many floating holidays an employee receives based on when they start with your company (i.e., the first half or second half of the year)
Prior Notice Requirement
It's best to include guidelines about when employees should notify their managers about their floating holiday request. Adequate notice will reduce stress and scheduling mishaps. Just try not to have very rigid requirements—a few days or more typically does the trick.
Of course, if an employee needs the time for a family emergency or another unexpected reason, managers should be as flexible as possible in letting employees use the time.
Rollover
It's typically up to the employer whether or not staff can carry over unused floating holidays. Most businesses don't allow rollover, but you must stay up on your state's laws as some states prohibit "use it or lose it" vacation policies.
If you're in one of those states, you might consider paying employees for unused time yearly to prevent excessive accrual and ensure fair compensation.
Payout Upon Termination
Speaking of unused time, are floating holidays paid out upon termination? This also depends on state law. 
If you allow employees to take floating holidays at any time, they're considered vacation time. Meaning you'll be on the hook to pay it out upon an employee's termination according to state law and your PTO policy (though this isn't the case in every state). 
However, if you offer a floating holiday tied to a specific holiday and an employee quits before that holiday, they are not entitled to a payout. This is because their employment through the holiday was a condition of the floating holiday payout.
Number of Floating Holidays
Since employers are not legally required to offer floating holidays, they can decide how many they'd like to provide a year. In the SHRM Holiday Schedule Survey, 30% of companies said they offer employees one or two floating holidays yearly.
Final Thoughts on Floating Holidays
Floating holidays are an excellent option for companies that want to offer more time off without increasing costs. When managed correctly, they can be a cost-effective way to give employees more time off without increasing costs. The key is to understand their advantages and disadvantages and how to implement them at your company.
Most importantly, develop and distribute a fair, robust floating holiday policy to your team and ensure you comply with state laws regarding PTO.
For more guidance, contact BlueLion today at info@bluelionllc.com or 603-818-4131, or learn more about our outsourced HR services. We will be happy to help you build out a benefit that suits your company and employees.
The information on this website, including its newsletters, is not, nor is it intended to be legal advice. You should contact an attorney or HR specialist for advice on your individual situation.