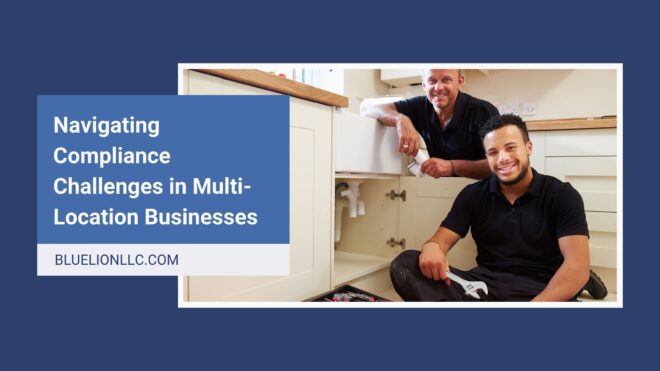 For businesses with multiple locations that span different jurisdictions and states, maintaining compliance across the board is crucial and complicated. And for employers with remote employees based in various states, it's become even more complex!
The bigger your company and the more locations it includes, the more challenging labor law compliance becomes. That's why multi-state employers must beware of key areas such as:
Payroll and taxes

Benefits

Security and data privacy 

Health and safety

Wage and hour laws

Discrimination laws
We get it, it's a lot of time, energy, and money—but overlooking these laws and regulations could lead to violations and significant penalties. So, how can you stay compliant everywhere while providing flexibility to your teams? Below, we explore laws and issues you should prioritize as a business with multiple locations.
Federal vs. State Labor Laws: What Do I Follow?
Whether you have a multi-location organization, a remote team of employees spread across states, or a combination of both, you must navigate the complex regulatory landscape of both federal and state laws. That means adhering to laws where your employees are working in addition to those where your company is headquartered!
First, key federal labor laws include: 
Fair Labor Standards Act (FLSA): Regulates minimum wage, overtime pay, recordkeeping, and child labor

Family and Medical Leave Act (FMLA): Provides qualified employees of covered employers to take unpaid, job-protected leave for certain family and medical reasons with continuation of group health insurance coverage

Affordable Care Act (ACA): A series of health care reforms and mandates aiming to increase the quality and affordability of health insurance while reducing the number of uninsured individuals
However, many state laws supplement or differ from federal regulations. If your state or jurisdiction has set a higher standard, you must follow it in addition to federal laws. 
7 Can't-Miss Multi-Location Compliance Areas
So, let's look more closely at these specific compliance areas that businesses with multiple locations should pay attention to. 
1. Wage & Payroll Requirements
Multi-state employers have to stay updated on wage and tax laws. While the federal minimum wage remains at $7.25 an hour, many states have enacted higher minimum wages. That means you must adhere to the minimum wage laws of each state where you have employees and pay the highest applicable minimum wage. Beware of any other specific wage and hour laws in each location, such as overtime pay and meals and breaks.
Varying state tax regulations also impact payroll deductions, especially since the ACA went into effect. The health care reform law mandates that employees of multi-location companies all be counted on one payroll. Follow these tips to ensure payroll compliance: 
Use a robust payroll system. This is vital for any business with multiple locations, as these platforms can adapt to diverse state requirements.

Determine which states you have a nexus (i.e., where you're required to follow tax laws of a particular jurisdiction) and must withhold income tax.

Find out if each relevant state has a reciprocity agreement, meaning employees only have to pay income taxes in their state of residence rather than the state where they work.

Identify each employee's working state (i.e., where they conduct work for your company) and residence state.
2. Benefits Administration
Next, check for state-specific employee benefits regulations. Multi-location employers must comply with different state requirements regarding:
Health care 

Unemployment

Worker's compensation (mandated in most states)
For example, a growing number of states are implementing their own paid family and medical leave (PFML) laws, requiring employers to provide paid leave to eligible employees for family and medical reasons. These programs trump FMLA. 
This is why a centralized HR management system is a must! It will help ensure compliant, streamlined benefits administration and more thanks to employee classification functions. Plus, these platforms come with features like time clocks, schedulers, and recordkeeping, so you can also track things like overtime and breaks.
Pro tip: Put one location in charge of ACA adherence to prevent confusion and ensure health insurance and hours are tracked accurately. This way, you'll avoid either a lack of coverage or duplicate coverage.
3. Safety, Security & Data Privacy
Businesses with multiple locations also need to follow state-specific workplace safety regulations, conduct regular audits to ensure a consistent standard of safety across all sites, and implement a unified health and safety training program for employees. Use measures like background checks (where legal) to ensure the safety of your team.
This also goes for cybersecurity regulations, which vary from state to state. Multi-state employers should:
Implement standardized security protocols and employee training across all locations

Understand how to navigate state-specific data breach notification requirements

Create a privacy and security policy

Use a virtual private network (VPN) for secure web browsing, encryption, and two-factor authentication on all devices for remote workers
4. Labor Law Posters
It's a simple but essential task—we're talking about displaying your labor law posters! Having up-to-date labor law posters at each location ensures compliance with state-specific poster requirements. Be sure to:
Check the DOL's Poster Advisor to find out which notices apply to your company

Create a system and schedule for regularly checking and updating posters across all sites

Post them in a conspicuous area, like the break room or lobby
BlueLion is now offering clients a convenient labor law poster service! We can send physical posters by state or provide an e-poster service for virtual employees and teams. Yep, remote businesses must post labor law notices, too! Ask us how you can get your posters easily today.
5. Employee Handbooks & Policies
Another critical tool for businesses with multiple locations is the employee handbook. It should be comprehensive and reflect the nuances of the employment laws in every state where the company operates and/or has employees.
While your handbook should include much more than compliance policies, you can set a solid foundation by including essential policies on federal laws that define the employer's and the employee's legal responsibilities. Then, include additional policies for each relevant jurisdiction. 
Conduct periodic reviews and updates to all company policies to ensure they align with changes in state regulations (your HR consultant can and should help with this!). Communicate policy changes with employees at all locations by sending the revised handbook. We recommend a handbook review at least once a year.
6. Remote Work Compliance
If you've been managing a remote team with employees spread across various states, you already know how tricky it can be. But if you're new to it, you'll need to brush up on each state's remote work laws and regulations. Telecommuting employees are usually protected by the laws of the jurisdiction where they're located (e.g., benefits, worker's compensation, unemployment, paid leave, minimum wage).
Develop a thorough remote work policy addressing these state-specific laws (as noted above), as well as equipment, remote work safety, hours and productivity standards, and communication.
7. Additional Labor Laws to Follow
Although the above areas are vital to maintaining compliance for multi-state employers, there are many other labor laws and regulations on both the state and federal levels. Some cities and counties even have their own laws! So pay attention to state regulations regarding: 
Consult with your HR and legal teams to create a complete checklist and confirm nothing slips through the cracks.
Ensuring Compliance for Businesses with Multiple Locations
Yikes, that was a long list—and we only scratched the surface! Now that you understand the depth of compliance challenges multi-state businesses face, you also understand the importance of implementing proactive measures, continuous education, and technology solutions. As your team expands, you'll need these tools to maintain compliance, efficiency, and a satisfied team.
Of course, it's a lot of work for a business leader to handle on their own, so you should always turn to your HR professionals and attorneys. They will conduct due diligence and minimize legal risks and potentially hefty penalties. If you enter a new location, seek legal counsel who understands the state and local regulations!
Do you need guidance on multi-location compliance and labor law poster services to protect your organization? Reach out to BlueLion today at info@bluelionllc.com or 603-818-4131 to learn how our HR consultants can help!
The information on this website, including its newsletters, is not, nor is it intended to be legal advice. You should contact an attorney or HR specialist for advice on your individual situation.